I have recently switched to Mac full-time, coming from a Windows/Linux background.
Here are some general (easy to install/use) applications you might find useful.  
(advanced notice might come out in a bit)
———————————————————
Jing – free / can pay for extra features (multi-platform)
Take Screenshots: Capture an image of what you see on your computer screen
Record Screencasts: Record up to 5 minutes of onscreen video + audio
Alfred – free / can pay for extra features
Increase your productivity
by launching apps with shortcuts
Instant access to
web searches, bookmarks
& more
Browse and play music from your
iTunes library
quickly
Perform actions
=96 copy, move & email files & folders
Ward off RSI
=96 skip using the mouse with easy shortcuts
note: I paid for the "powerpack" upgrade for things like global hotkeys.
SoundSource is a tiny application for Mac OS X enabling you to switch your audio input and output sources with a single click, and even adjust their volume settings.
https://rogueamoeba.com/freebies/
(Excellent System/Application Notifications)
Skype's internal notifications are annoying and worthless, upgrading to Growl and setting it as your notification system for skype will allow you to never miss a Skype message.
(now that I've made that statement, I'd better be more quickly
responsive, eh?)
(Yes, even though I'm cheap, I paid for it and happy I did)
Caffeine – free

(great for presentations, watching a meeting, etc)
Caffeine is a tiny program that puts an icon in the right side of your menu bar. Click it to prevent your Mac from automatically going to sleep, dimming the screen or starting screen savers. Click it again to go back.
Great multi-support IM client… covers just about everything but skype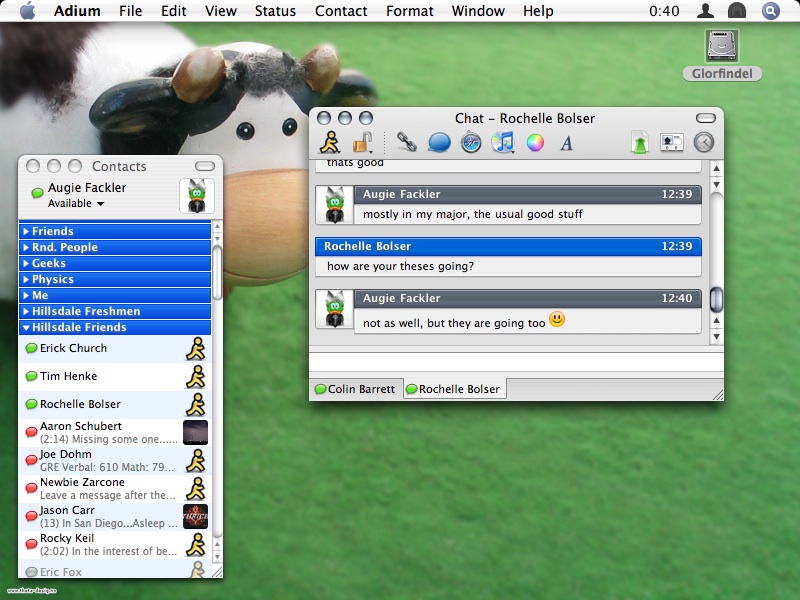 Synergy – free (multi-platform)
This one only barely makes the "easy" list… but if you have multiple computers+monitors sitting side-by-side, you can use this application to share a keyboard and mouse across them.
If this sounds good to you, read up on it and we might be able to help you set it up… if not, ignore this one.